49.35
65.57
4590
per site
Checked by Modstore
Free future updates
Work on the test and public domain
12 months tech. support
Warning! This component requires PHP version 7.0 or higher! If your site uses PHP less than required, the installation of this package could break it.
Warning! This package requires MODX not less than 2.7 !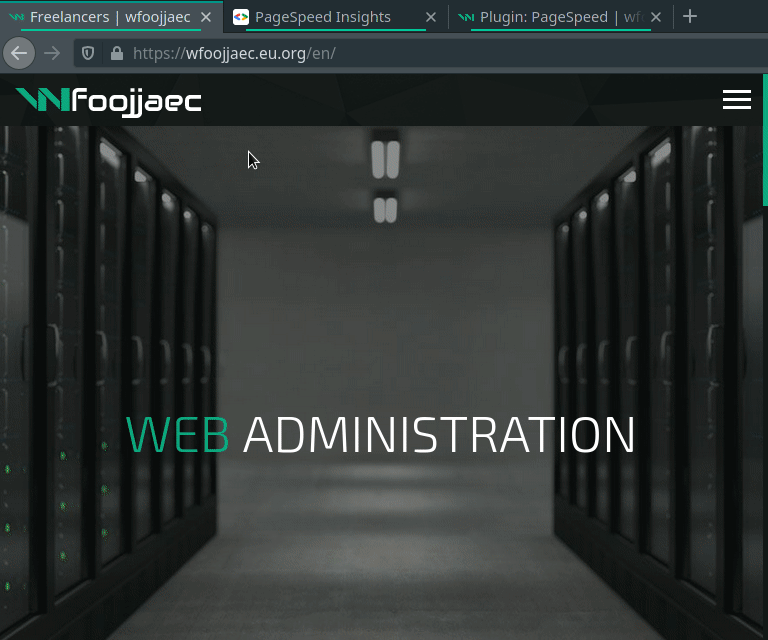 This extra is designed for easier integration of PageSpeed Insights optimization for MODX Revolution. It can:

Operate in automatic mode, if default configuration properties are enough.

Convert gif, jpg and png images to webp format, if browser supports it, with or without caching. Adjust converted image size and quality.

Preload subresources and generate critical path CSS rules.

Add font-display property to @font-face declarations.

Set crossorigin attribute and compute SRI hashes.

Manage and efficiently cache multiple configurations at once.

Apply native lazy loading for img and iframe elements.

Minify styles, scripts, JSON and HTML content.

Add defer or async attribute to script tags.

Handle subresources via cdnjs.com API and download Google Fonts.

Process meta and link tags with http-equiv and preconnect attributes.

Output MODX timing tags to browser console for members of Administrator user group.

Documentation and examples can be seen here.

2.1.8-pl
Changed: parseCSSBlockList minify
Changed: sabberworm/php-css-parser (8.3.1 => 8.4.0)
2.1.7-pl
Added: MODX 3 compatibility
Changed: HTTP_TIMEOUT to '40'
Fixed: &convert option 'dynamic'
Fixed: PROPERTIES_CACHE_IMAGE
Fixed: PROPERTIES_CACHE_STYLESHEET
Fixed: beacon csso URL
Fixed: expires header value
Fixed: parseCSSBlockList base_url
Fixed: preload gif, jpg, png images
2.1.6-pl
Fixed: looked compatibility
2.1.5-pl
Fixed: data URI extension
2.1.4-pl
Added: &enable
Added: &path
Added: &url
Added: wgenial/php-mimetyper
Changed: CACHE_HASH_ALGO to 'fnv164'
Changed: JPEG default extension to 'jpeg'
Fixed: PromoDs compatibility
Fixed: data URI scheme
Fixed: empty HTML
Fixed: meta http-equiv
Fixed: resizing gif, jpg, png images
2.1.3-pl
Changed: CACHE_LOG_INTERVAL to '10'
Changed: libXML error
2.1.2-pl
Changed: OnWebPageInit to OnHandleRequest
Changed: cache-control HTTP header
2.1.1-pl
Added: ignore
Changed: subresource exceptions import
Fixed: critical path CSS generator
Fixed: multiple domains compatibility
Fixed: preload header format
Fixed: refresh timeout
2.1.0-pl
Added: PHP 8 compatibility
Added: cache refresh progress messages
Added: lexicon etries for log messages
Added: multiple domains compatibility
Added: sabberworm/php-css-parser
Added: stream context
Added: subresource integrity validation
Changed: matthiasmullie/minify (1.3.61 => 1.3.66)
Changed: matthiasmullie/path-converter (1.1.2 => 1.1.3)
Fixed: AjaxForm compatibility
Fixed: CSS selector
Fixed: DIRECTORY_SEPARATOR
Fixed: URL
Fixed: cross-origin stylesheet
Fixed: mSearch2 compatibility
2.0.9-pl
Added: &bundle
Added: &crossorigin, &integrity, &script empty value
Added: imagick
Fixed: browser compatibility
Fixed: link subresource
2.0.8-pl
Added: &display
Added: &resize
Changed: &async, &defer to &script
Changed: cache path
Fixed: Google Fonts order
Fixed: fenom compatibility
Fixed: link crossorigin
Removed: &tplBeacon, &tplConsole, &tplLink, &tplScript
2.0.7-pl
2.0.6-pl
Added: &convert
Added: http-equiv, prefetch, preload, srcset
Added: refresh timeout
Changed: &tplLinkStylesheet to &tplLink
Changed: LOG_LEVEL_ERROR to LOG_LEVEL_WARN
Removed: &assets
Removed: &minify option 'css-attr'
Removed: &minify option 'js-attr'
Removed: &preconnect
2.0.5-pl
Added: System Settings
Added: loading attribute
Changed: &quality default value to '80'
Changed: tplBeacon; CSSStyleRule order
Fixed: link media attribute
2.0.4-pl
Changed: &subresources default value to '{}'
2.0.3-pl
Fixed: punycode hostname
Fixed: script subresource
2.0.2-pl
Changed: MIME type of cached inline link subresources to text/css
Changed: MIME type of cached inline script subresources to text/javascript
Fixed: document encoding
Fixed: inline script
2.0.1-pl
Fixed: PHP 7 compatibility
2.0.0-pl
Added: &minify option 'css-attr'
Added: &minify option 'js-attr'
Added: critical path CSS generator
Changed: &integrity default value to 'sha256'
Changed: &minify default value to 'html link script'
Changed: &preconnect default value to 'false'
Fixed: request recursion
1.0.2-pl
Changed: local subresource
1.0.1-pl
Added: regClientCSS, regClientStartupScript, regClientScript, regClientStartupHTMLBlock, regClientHTMLBlock
Added: subresource version
Changed: LOG_LEVEL_ERROR to LOG_LEVEL_WARN on empty $link, $script
Changed: loadClass on OnMODXInit
Changed: tplConsole
Changed: tplLinkStylesheet; Eliminate render-blocking resources
Fixed: cache lifetime
Fixed: configuration override
1.0.0-pl