Warning! This component requires PHP version 5.4 or higher! If your site uses PHP less than required, the installation of this package could break it.
Warning! This package requires MODX not less than 2.5 !
modAlertify
The module replaces jGrowl notifications (used in
miniShop2
,
Office
,
AjaxForm
) on AlertifyJS, Bootstrap Notify, Overhang JS, Noty or Toastr.
modAlertify
does not replace standard add-on scripts, but only overrides the output methods of messages.
In the system settings, you can specify whether to replace the notifications of each of the add-ons (modalertify_minishop2, modalertify_office, modalertify_ajaxform), specify the default settings for alertify in JSON format (modalertify_options), set theme of alertify (modalertify_theme)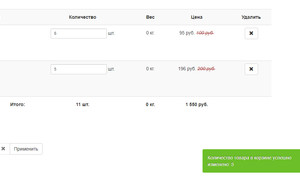 1.0.4-beta
Added notices: Bootstrap Notify, Overhang JS, Noty, Toastr
Fixed plugin
Fixed /web/default.js
1.0.3-beta
1.0.2-beta
1.0.1-beta