Warning! This component requires PHP version 7.0 or higher! If your site uses PHP less than required, the installation of this package could break it.
Warning! This package requires MODX not less than 2.3 !
TVTable is a TV parameter in the form of a table with a changeable number of both rows and columns.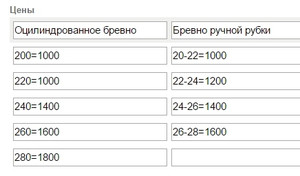 UPD
Now TV design is:

And
Lexicons
are available!
You can use
chunks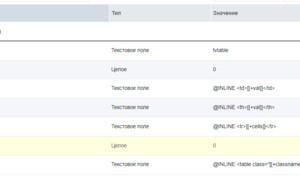 Using the snippet:

[[TVTable?
  &tv=`id TV`
  &id=`resource id`
  &classname=`Table classes`
]]
You can use new parametres — getX and getY to return value of cell
Major version author: Yana Vostriakova.
4.0.0-pl Add modx3 support
3.5.3-pl
Add row and col for TD

3.5.3-pl

Fixed bug render field on MIGX window
3.5.2-pl
Fixed formation with empty field value [JS]
3.5.1-pl
Fixed version of assets
Fixed path of assets in main plugin (#10, thanks to @kondakovdm)
3.5.0-pl
ES6 refactor
Fixed first row inability to remove and sort
Change custom drag to Sortable.js (use CDN)
3.4.1-beta
Added confirm before removing rows, columns and clearing table
3.4.0-beta
Added Drag'n'Drop rows sorting
Added default heading property
Added display headers property for snippet
Added idx to cell tpl
3.3.3-beta
Fix last release bug
3.3.2-beta
Some UX improvements
3.3.1-beta
Fixed remove column button label
3.3.0-beta
Added rows count property
Added headers property
Added cell width property
3.2.0-beta
Rewrited main script [JS]
Added columns count, max columns and max rows properties
Added ability to delete specific columns
Added confirm dialog window before clearing table
Fix bug when value is empty [Snippet]
3.1.1-beta
Fix the bug when typing on other inputs [JS]
3.1.0-beta
Added new system setting (tvtable_clear_button) for showing clearing table button (Hidden by default)
Fixed lexicon entries (ru, en)
Fixed and improved main js
3.0.0-beta
Redesign
Fix add row button
Fix the bug when 2nd row is empty
Now you can create one row and one column
For details read the complete changelog
1.0.8-beta
Now U can use getX and getY parametres, to return value from array
1.0.7-beta
Now U can use TvTable snippet as modx output modifier - [[*table:tvtable]]
1.0.6-beta
Fix using in migx, fix JS, add CSS in file
1.0.5-beta
Add chunks for table, tr, th, td
1.0.4-beta
1.0.3-beta
1.0.2-beta
Many tables on document form
1.0.1-beta