Warning! This component requires PHP version 5.3 or higher! If your site uses PHP less than required, the installation of this package could break it.
Warning! This package requires MODX not less than 2.3 !
The component implements the mechanism for sending notifications about birthdays via sms and email.
Prepared for work on cron. There are 2 files /assets/components/birthReminder/sms.php and email.php — respectively for sending sms and email notifications.
To send sms now uses the service smspilot.ru.
Use your own table to keep birthdays.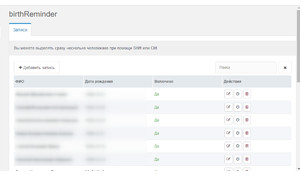 Код
на Github.
Thread in
MODX.PRO community
.