Warning! This component requires PHP version 5.6 or higher! If your site uses PHP less than required, the installation of this package could break it.
Warning! This package requires MODX not less than 2.6 !
Formalicious is a powerful multi-step form builder, with support for 8 different field types, built-in validation, and the ability to use hooks and other advanced FormIt features.
Formalicious speeds up your own form-building and also enables your clients to manage their own forms with just a few clicks.
8 Field Types
With all necessary fields types, you can intuitively build forms for anything from contact forms to event registrations. You can choose from the following: text, textarea, email, number, checkboxes, radiobuttons, select, and file upload.
Multiple Steps Support
Create forms that span multiple pages, without having to worry about setting up temporary storage, resources for each step, or other headache-inducing steps. Just click Create new step and add the fields, Formalicious takes care of the rest.
Automatic Validation & Sanitisation
Just tick the box to mark a field as required, and Formalicious automatically handles validation for you. Submitted values are also automatically sanitised to make sure your form is protected against Cross Site Scripting (XSS) attacks.
Advanced FormIt Features
If you need to use one of the more advanced features of FormIt, such as pre- and post-hooks, or want to specify additional properties, you can add those to your forms through the Formalicious component as well.
HTML email & auto-replies
Every form submission is automatically sent to a designated email address and a friendly auto-reply is sent to the website visitor when submitting a form. All emails are 100% customisable with your own corporate identity.
Save data with 256-bit encryption
Saving forms can be useful as a backup, but it's also a privacy risk. Therefore FormIt has been equipped with Rijndael 256-bit encryption to keep your data secure (mcrypt module required).
Powerful customisation
Formalicious has tons of possibilities by default, but it also comes with the ability to customise it to your own needs. Add you own custom validators, field types and emails.
Screenshots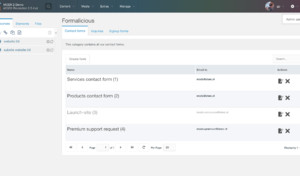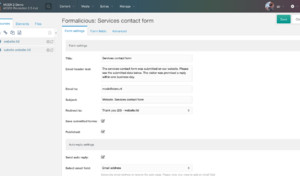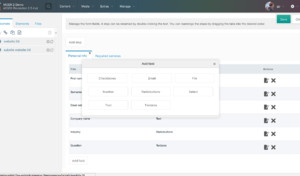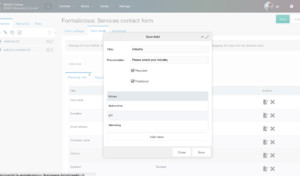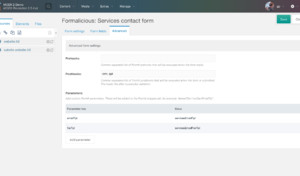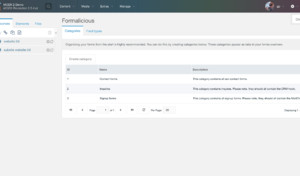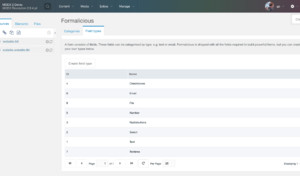 Version 1.4.3-pl
Fixed multi-step radiobuttons/checkboxes/selects
Refactored ExtJs
Version 1.4.2-pl
Version 1.4.1-pl
Create database fields on update
Version 1.4.0-pl
Add field description
Hide advanced tab based on permissions
Add heading & description fields
Add field description
Change fiarcontent from varchar to text for bigger mails
Added German translation (thanks to Fabian Christen)
Version 1.3.0-pl
Fixed phptype of some fields in schema of tables (PHP 7 compatibility)
Added system setting to disable overall form saving functionality
Added russian lexicon
Version 1.2.1-pl (October 2017)
Remove the limit from the ContentBlocks input field
Hide autoreply options when autoreply checkbox is unchecked
Version 1.2.0-pl (August 2nd, 2017)
Removing default limit from fiaremailto field (#31)
Add back button to form update view
Add duplicate option to forms grid (#32)
Update grid action buttons to use modx font-awesome icons
Make add step/field buttons more visible
Add preview option to form fields tab
Add saveTmpFiles FormIt property to default formTpl
Add formName FormIt property to default formTpl
Prefix fiar-attachment field with modx base_path
Only add email hook when emailto is not empty
Remove default limit of 20 from field-values grid
Check for common 'spam,email,redirect' hooks added by Formalicious when saving posthooks
Add ID field to form-fields grid
Make sure prehooks are run before the renderForm snippet
Version 1.1.0-pl (April 19th, 2017)
Fix setting placeholder for stepParam parameter for renderForm
Show message when trying to display unpublished form (#6)
Update radio and checkbox chunks to use correct Bootstrap classes (#28)
Allow emailTpl and fiarTpl to be overwritten with renderForm snippet parameters (#23)
Add validate and customValidators parameters to renderForm and formTpl (#23)
Version 1.0.1-pl (February 3rd, 2017)
Added ContentBlocks support (thanks Mark!)
Fixed installation issues with MODX installations with custom table-prefixes
Version 1.0.0-pl (February 1st, 2017)
XS-4 New documentation
XS-11 Changed height of several dialog windows
XS-12 Spacing adjustments
XS-19 Gave the default emails a lighter grey
XS-20 Modified all en/nl lexicons
XS-21 Fixed inline editing (removed it)
Version 1.0.0-RC2 (January 27th, 2017)
[#28] Fixed oldstyle actions
[#29] Improved this very changelog
[#40] Create a readme
[#41] New logo for the modmore site!
[#XS-42] Autoheight for new-field dialog
Version 1.0.0-RC1 (January 26th, 2017)
[#34] Improved handling of empty fields
[#37] Radio button # Select # Checkbox options are now required
[#38] Allowed files are now mentioned
[#36] Improved default emails
[#32] Unused description field is now removed
[#31] Improved placeholder field usage
[#30] Mention context-NAME in the "Redirect to" field when creating a new form
[#27] Fixed file upload in multistep form
[#22] Improved emailTpl
[#20 + #23 + #35] Improved styling of buttons
[#17] Fixed category_id fallback
[#9 + #12] Fixed empty fields in multistep form
[#13] Fixed email validation
[#10] Fixed adding parameters not working properly
[#7] Now shipped with TV
[#8] Fixed uninstallation proces
[#4] "Update type" dialog is now bigger
[#2] Fixed select form-email-field when creating a form
[#1] Fixed empty field when creating a form
[#6] Improved adding fields
[#5] Improved step-creation flow
[#3] Replaced form-description with "Email header text"
Version 0.6.0 (2016)
Create form categories
Ability to create form steps
Ability to save forms in FormIt (FormIt V2.2.2#) CMP
Added ability to setup autoresponder in form
Updated lexicons