Warning! This component requires PHP version 7.0 or higher! If your site uses PHP less than required, the installation of this package could break it.
Warning! This package requires MODX not less than 2.3 !
This MODX Extra is capable of loading an admin panel frame with some css to hide unnecessary content blocks.
It contains no settings, just a chunk (tpl.frontendmanager.panel) to display the panel and URLs and plugin (frontendmanager) to embed the panel into the page (for the admin panel's logged-in users).
The panel displays:
page editing
users
context settings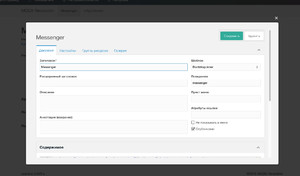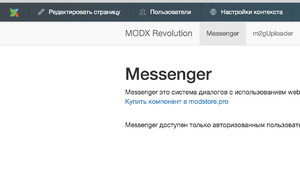 Discussion of the component in
MODX PRO community
1.1.1
Panel display setting (top/bottom) Adaptability
1.1.0
Panel hiding css copied to .fm-selectors
1.0.9-beta
Hotfixes from Ilya Utkin
1.0.8-beta
Plugin events hotfix
1.0.7-beta
Adaptable panel layout added
1.0.5-beta
Serious cache bug fixed
1.0.3-beta
Styles, scripts, and chunk are shown in the settings. Page reload after saving
1.0.1-beta
Class added to the chunk edit button All overlaps removed from chunk edit
1.0.0-beta
Optimized for MODX 2.3 Improved processors Disabled plugin and system settings Improved UI Added grid actions Added icons in menu Added search in grid Grid sorting Enable and disable actions